How to grow your property portfolio?
Among all competitors, our real estate software is the one that shows more properties, with over 310 million listings from more than 30,000 sources, and offers the most complete information. Use CASAFARI to grow your property portfolio and reduce your cost with real estate marketing!

With the effective alerts
Receive early in the day the properties for sale by the owner that were put on the market, by email. With these alerts you will save time, sparing hours of manual searches for new additions to the housing market.
Control your property portfolio and ensure exclusivity with alerts that monitor the properties online.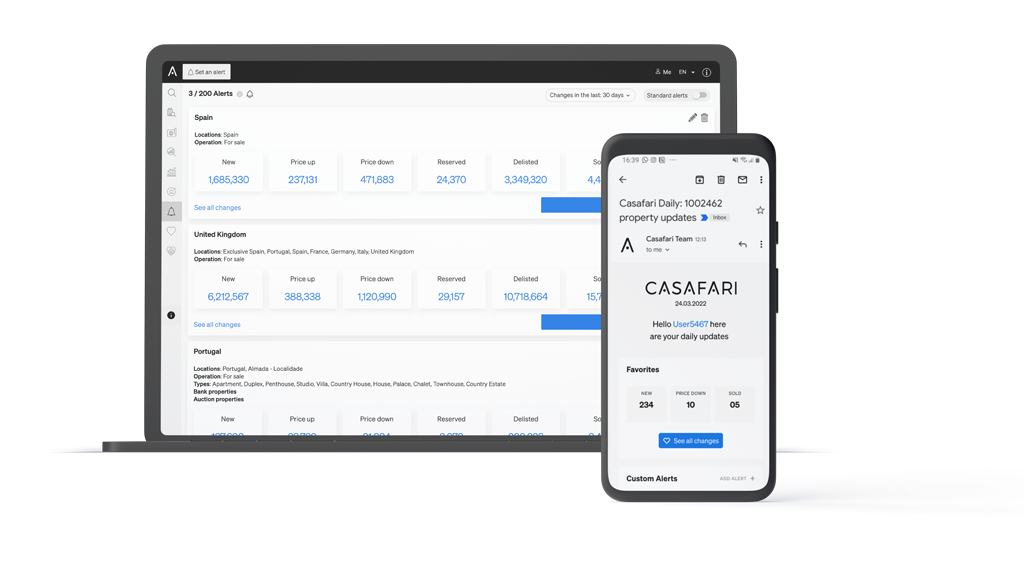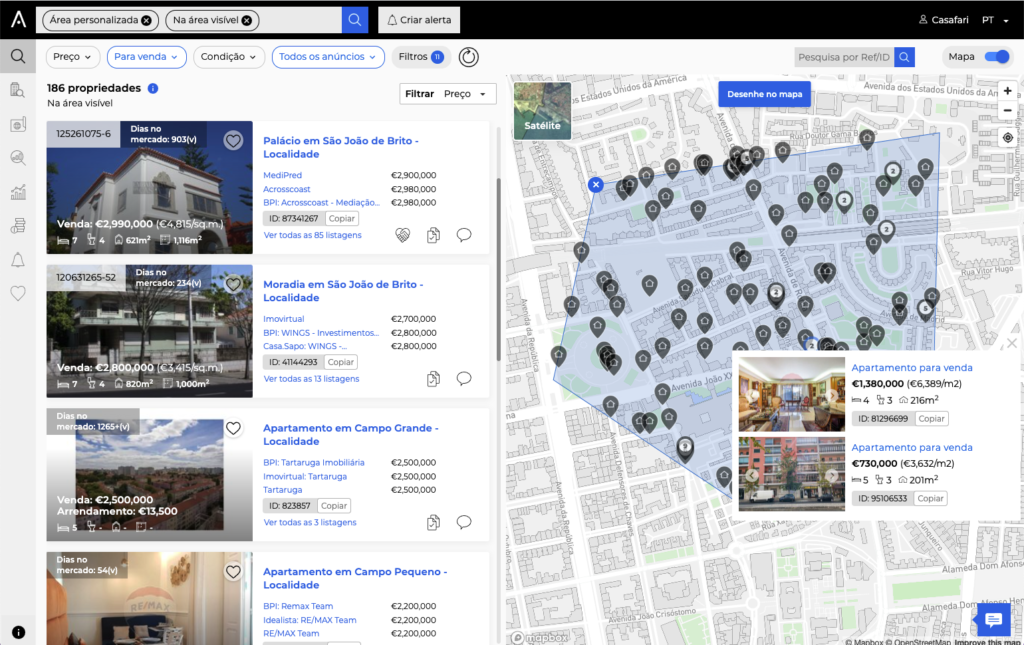 With an appropriate Property Sourcing
Have access to all properties on the market on a single page with just 2 clicks. The search filters and property history enrich and substantiate the work of the estate agent.
Estate agents that work with CASAFARI have higher revenues because they can access the largest number of property leads through our platform.
With a property valuation calculator that qualifies and converts real estate leads
Offer a free property valuation online through a microsite and gather qualified property leads. Allow the microsite to work for you, effortlessly generating real estate leads, both for sale and rent, 24 hours a day.
Your prospecting results can increase up to 30% a month with this solution, reducing the price per lead and avoiding unnecessary expenses with ineffective real estate marketing.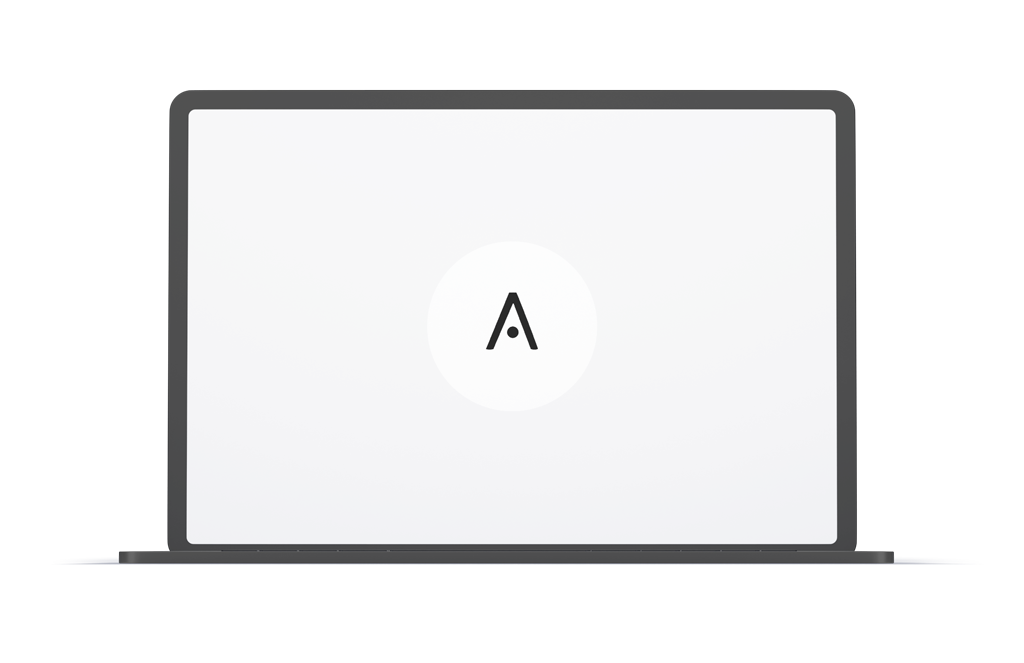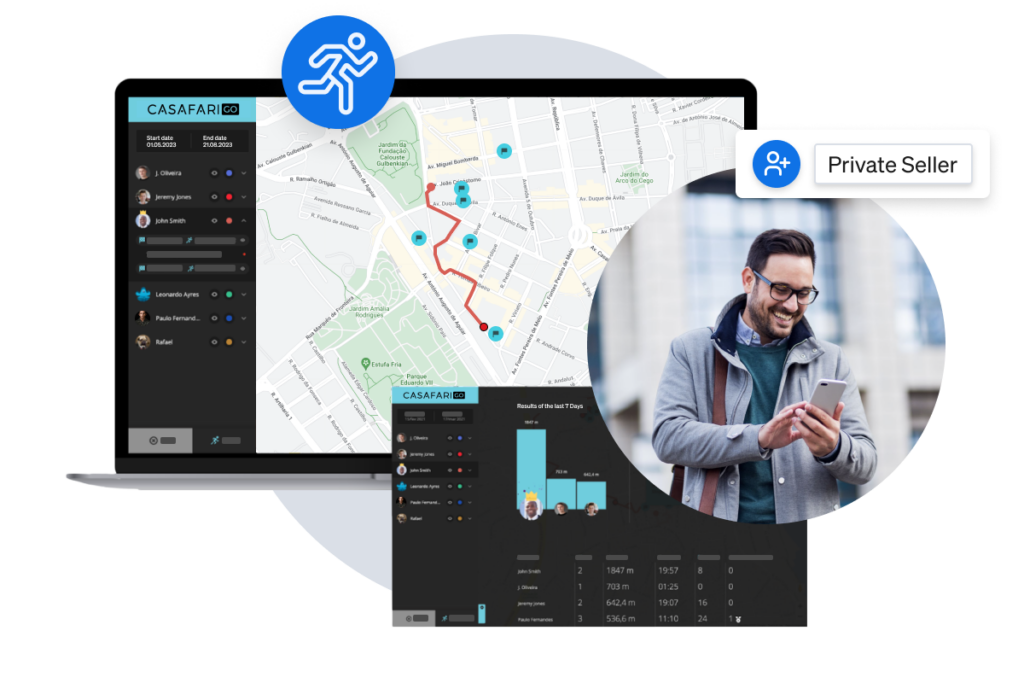 With a mobile app that revolutionises real estate prospecting
Forget outdated paper-and-pencil methods and start working with a tool that will help you maximise your team's efficiency. CASAFARI GO's farming zone feature instantly shows the best prospecting routes for each agent according to their location, filtering properties by private sellers for new opportunities.
With a seamless integration, the app accesses CASAFARI data and your CRM to add to your sales funnel all the information gathered from each lead. And the best news is: it's all measurable!
You can track your team's results and the growth of their property portfolio with advanced analytics, analysing their performance and projecting future efforts.
One of the many reasons we chose CASAFARI, if not the main one, is the way it searches for properties. Constantly checking the market value and having real-time knowledge of our competitors' properties allows us to identify the best opportunities in the sector. This leads to having a larger property portfolio, and in turn, a quicker negotiation process.
CASAFARI digitises, centralises and organises all the information on the market and contributes to informing, preparing and providing essential information when advising clients and growing a property portfolio.